Sell Old Electronics – Many people are wondering why sell your old electronics?  Its simple, selling old electronics is good for your wallet, and the environment!  Many times people just let their old iPhones or other electronics sit around, and then days after they finally realize that the value has dropped and then they don't even bother selling or recycling those items.  They are left like a unwanted battery.  But what happens to it?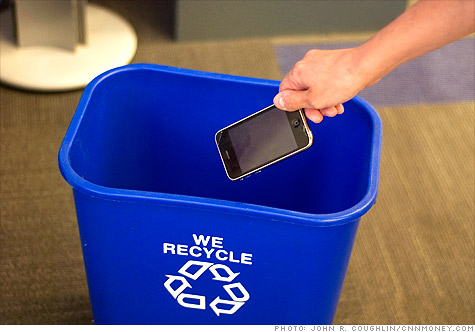 Most of all electronic technology changes as fast as you can say "iPhone 5″. Digital advances are constantly evolving the way we communicate and compute information. When you sell your old electronics, you realize your need to stay current, yet you also see that these changes create electronic waste, which is harmful to our environment.  According to cleanair.org, "only 10 percent of the 140.3 million cell phones retired in 2007 were recycled".  This statistic is not only sad, but it is frightening to our future as we are needlessly filling our planet with unwanted, used electronic Ewaste.  By selling your old electronics, you are helping eliminate the source of this epidemic and problem caused by the electronic age.  Cleanair.org also says, "About 304 million electronics were disposed of from US households in 2005. Two-thirds of them still worked." CashitGadget is dedicated to reducing landfills by recycling your unwanted gadgets. "Recycling one million cell phones allows 35,274 pounds of copper, 772 pounds of silver, 75 pounds of gold, and 33 pounds of palladium to be recovered" Cleanair.org remarks.
By using our services to sell your old electronics, you receive the satisfaction of conserving our planet's resources. Our promise is to give you fair prices for all your old electronics when your selling.  The best part is your electronics won't be wasting your space, it will be saving you cash on your next upgrade!  In fact DeviceFlip has purchased thousands of devices, and paid over $400,000 to date for your old electronics!
Get fair prices, Free shipping, and 100% satisfaction when you use the best possible way to sell and recycle your old electronics!
Whats holding you back? - Lock in the best price today for your iPhone, gadget or device, and get a FREE box sent to you within a few days, or a FREE label for your box today. You can get paid in as few as 3 days, so start today, and get the best price.
Take a minute and watch our short video bellow about out credible selling service.
Get a quote by clicking here – SELL
Posts Related to Why Sell Old Electronics To Device Flip?