Logos Quiz Answers Level 7 – This is the logo quiz answers, cheats, tips, hints and walkthrough video for level 7 for your iPhone, iPod, or even iPad!  Get the answer for the right level here.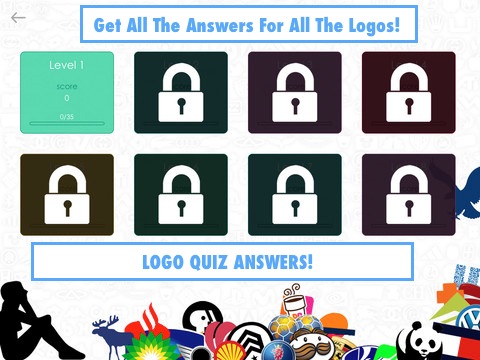 This cheat sheet will help you pass the levels 7 of the logos quiz iPhone application.  If your looking for a easy guid and walkthrough check these easy answers out.  These answers explain the shape of the logo and you will easily be able to get the right answer and the right brand name to the right logo.  Sometimes you just can't find the right answer to the logo shape, but with this easy guide you will find all the answers for the level 7 SEVEN.  Read below for all the answers.
ACTIVISION
ACURA
ADOLFO DOMINGUEZ
AEGON
AIG
AIR CANADA
AIRNESS
AIRWALK
AIWA
ALCATEL
AMSTRAD
ASIANA AIRLINES
AUNTIE ANNES
BALLANTINES
BANCO DO BRASIL
BENTLEY
BRITA
BRITISH MIDLAND INTERNATIONAL
BUICK
CAROLINA HERRERA
CARREFOUR
CATERPILLAR
CBS
CHINA TELECOM
CHINA UNICOM
CHUBU ELECTRIC POWER
COLUMBIA
COMEDY CENTRAL
COMPAQ
DEUTSCHE BANK
DKNY
ELECTROLUX
ELEMENT
FUJIFILM
IBERIA
ICBC
INFINITI
ISUZU
KAPPA
KDDI
KRONENBOURG
KYOCERA
MALIBU
MATTEL
MAZDA
MILTON BRADLEY
MOBIL
NITRO
OAKLEY
ORANGE
PANDA
PBS
POLAROID
PRICE WATERHOUSE COOPERS
QUIZNOS
REUTERS
RITZ CARLTON
ROLLERBLADE
ROLLS ROYCE
ROYAL MAIL
SAFEWAY
SAUDI ARABIAN AIRLINES
SEAT
SHARP
SHOEI
SHOWTIME
SKULLCANDY
SLAZENGER
STAR ALLIANCE
SUBARU
SYMANTEC
T MOBILE
TARGET
TATA
THAI AIRWAYS
YOIGO
The video is bellow that you can watch to see the logos quiz answers for the LEVEL 7
Thanks for looking reading this post: logos quiz answers level 7.  If your looking for logos quiz answers for other levels other then logos quiz answers level 7, please click the image link bellow.
Posts Related to Logos Quiz Answers Level 7