Logos Quiz Answers Level 6 – This is all the answers for the logo quiz for iPhone game.  Get the logo quiz answers and cheat yourself to the next level.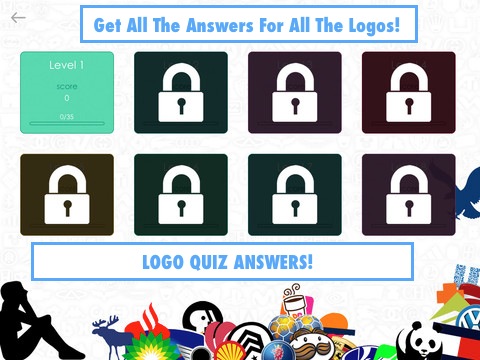 This guide will help you pass the level 6 of the logo quiz iPhone application.  If your looking for a easy guid and walkthrough check these easy answers out.  These answers explain the shape of the logo and you will easily be able to get the right answer and the right brand name to the right logo.  Sometimes you just can't find the right answer to the logo shape, but with this easy guide you will find all the answers for the level 6 SIX.  Read bellow for all the answers.
Here is the Logo Quiz Answers Level 6 For iPhone App
Purple rectangle and "M" = MILKA
Red circle "T" letter and stars = TEXACO
Simply a "b" letter = BIRDHOUSE
Black rectangle with 'A' letter with some dots on the sides = MAC
Blue Round like shape with silver border D and S letters = LADA
A red border forms an hexagon And a "T" letter inside = KRAFT
A triangle and green border with red triangle inside = ALITALIA
'c' and 'h' letters form the logo = CACHAREL
'W' letter and six orange rectangles make a flower like design in a radius design = WALMART
'S' letter with leaves design surrounding = SHERATON
Six circle with six different colors = BT
Circle with green and blue inside and = STUMBLEUPON
Red circle shape with a red swan silhouette inside = STABILO
Circle black with a white star shape inside = MONT BLANC
Two grey rectangles and a curvy red shape = CITI
Two blue diamonds form this logo = UMBRO
'E' letter with mandarin chinese characters form the logos = ZTE
Three leaves colored; green, blue, and orange = IBERDROLA
Orange square with 'H', 'E' and 'T' inside it to form the logo = HOME DEPOT
Green rectangle and four stars inside = BNP PARIBAS
Red circle with 'c' for the logo = CNET
A brown crown forms the Rolex logo = ROLEX
Blue rectangle shape and a man holds a racket silhouette inside seen = ATP
Three keys design only form the logo = UBS
Orange thunderbolt = GATORADE
Black rectangle with Orange shape that has 3 curvy lines = HANKOOK
A circle with three colors; orange, dark blue, and red = REPSOL
Orange Drop Shape or design = MAGGI
A red oval shape with 'b' letter inside it = BUGATTI
A blue shape that looks like it is covering something about it = SSANGYONG
Blue circle with 'g' and 'e' letters form this logo = GENERAL ELECTRICS
A Blue circle with Square cube shape inside = CHINA MOBILE
You can get the next answers for Logos Quiz Answers Level 6 Part 2 .  Check or search for the next post for the next answers!  Thank you for reading Logos Quiz Answers Level 6.
Posts Related to Logos Quiz Answers Level 6