Logos Quiz Answers Level 4 – Get all the answers, cheats, walkthrough for the logo quiz game level 4 designs for iPhone, iPod, and iPad.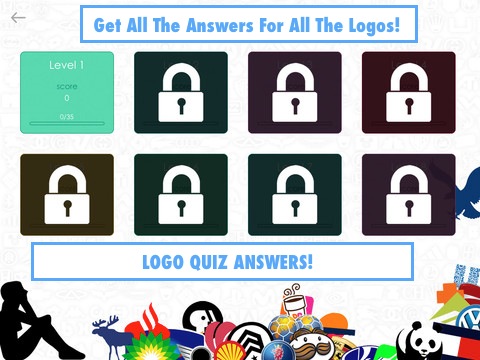 logos quiz game level 4 is a great game that allows you to guess the logos for each design and each logo image.  Sometimes it gets very challenging and sometimes you might need a little help!  You are in the right place.  These are all the answers for the logo quiz level 4.
First we give the design, and then the brand as the answer.  You can download the game for your iPhone, or iPad.  Its great fun and when you need help, come here to get the answers!  If you look at our other posts, you can find the other answers to all the other logos quiz levels.
HERE ARE ALL THE ANSWERS
Orange icon and white logo in Center – GALP
Blue circle and 2 waves form a love symbol – ROXY
Red background with smiling old man  – KFC 
A white mountain with stars around the top – PARAMOUNT
Orange circle with a flying bird inside it – LUFTHANSA
"B" letter formed by two black circles – BREIL
Red triangle with a "B" – BRIDGESTONE
A logo with 9 blue triangle s and seven other white triangles – TDK
Circle with B, Y, and R letters inside it – BAYER
Two soccer balls and a globe – FIFA
Orange colored Oval frame – HAAGEN DAZS
Two flags, one colored black-white dominating with its colors – CORVETTE
Red background with a quarter of circle in it – NORTH FACE
Silver circle lining around with maroon color – FIAT
Red circle with black and grey border line – LUCKY STRIKE
2 (two) BOLD font "H" and sometimes a "2″ – HUMMER
At the end  there is "E" and red triangle by it – AIR FRANCE
Blue colored 2 (two) double 'R' – RYANAIR RYAN AIR
Red square with white 'L' letter in it – LEGO
Red round sphere with grey line cris-crossing on it like a "X" – XEROX
Dominating yellow and green flower graphic logo – BP
Blue color circle with a Z letter – ZURICH
Black color cube – ANIC
Brown colored octagon – MG
Double 2 face faced to face circle with 1/2 half and a black background – DOLBY
Red round oval with 'Dr' letter s in it as logo – DR PEPPER
Yellow rectangle & 'L' letter in it and also sometimes bold "DHL" letters – DHL
Blue Square shape and 'O' letter in with 'F' in the middle of the blue – FOSTERS FARMS
Yellow rectangle with white strips inside and 'N' letter – NIKON
A blue rectangle with a 'G' letter in it – GAP
Silhouette of the name HERTZ with 'H' letter forming the hertz logo – HERTZ
Simple only a 'S' letter – SEGA
Double 'T' and 'L' letters forming logo – GILLETTE
Curved arrow curving and sometimes saying "burton" snowboard – BURTON
Orange graphic emblem with 'gsk' letter initial s in it as logo – GLAXO SMITH KLINE
Get Part 2 Level 4 Answers HERE –> Logos Quiz Answers Level 4 Part 2
thanks for visiting the Answer for Logos Quiz Answers Level 4.
Posts Related to Logos Quiz Answers Level 4