Logos Quiz Answers Level 2 – This is for Logos Quiz Answers Level 2 for your iPhone, iPod, and iPad.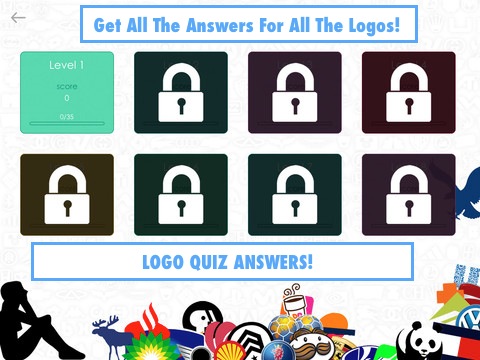 The logo quiz game is a great game that allows you to guess the logos for each design and each logo image.  Sometimes it gets very challenging and sometimes you might need a little help!  You are in the right place.  These are all the answers for the logo quiz level 2.  First we give the design, and then the brand as the answer.  You can download the game for your iPhone, or iPad.  Its great fun and when you need help, come here to get the answers!  If you look at our other posts, you can find the other answers to all the other logos quiz levels.
Gold & brown shield = ups
Gold rectangle = imdb
Gold cross = chevrolet
Blue rectangle and white N = nivea
Red star and plants underneath rectangle = heineken
Red oval and other ovals inside = toyota
Black circle and a face in it = olay
Silver h inside the rectangle = honda
Blue square with white color inside = linkedin
Red animal with horns inside the shield = dodge
Red C that trails off into distance = coca cola
White y letter inside the purple circle logo = yahoo
Blue circle outlined in gold and english flag with snake = alfa romeo
Wings with a green rectangle inside of it = aston martin
Blue circle and red lines with the white dots = nasa
Blue and silver outline = ford
Black circle with white circle inside and green arrow shape with wing = skoda
Black D with red arrow =dunlop
Blue K and L = kleenex
3 (Three) black lines with one straight and two curved in the end = atari
Yellow arrow with red "BURGER" for the logo = in n out.
Blue rectangle with yellow oval inside = ikea
Blue 1/2  rectangle with a cut diagonal and white P = sap
Red outlining a blank A = adobe
Red rectangle with white 's = campbells
Colourful fanned out shape = nbc
Circle with red white & blue colors = pepsi
Red modified s for motorcycle and automobile brand = suzuki
White "N" inside blue and black circle = netscape
Black & orange shield with rectangle and "motor company" as seen = harley davidson
Yellow rectangle with the black horse as a logo = ferrari
Blue square with X with a red line crossing each other  = axa
Blue P and c that saying "ideas for life" by it is = panasonic
Black rectangle with white square on left and red square is = tommy hilfiger
Colourful S with Red P standing up under = playstation
Black "y" logo = sony
Black vertical lines that are different sizes is = cisco
Red rounded rectangle with the N inside = nintendo
Black shape and gold with red ship inside = rover.
If you want the NEXT answers for LEVEL 3 go here —> Logos Quiz Answers Level 3
We have the best and easiest answers taken from the web, but all these answers can be found most anywhere for Logos Quiz Answers Level 2.
Click Bellow For All Parts and ALL answers
Posts Related to Logos Quiz Answers Level 2